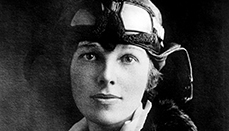 Amelia Mary Earhart , born July 24, 1897; disappeared July 2, 1937 was an American aviation pioneer and author.
Earhart was the first female aviator to fly solo across the Atlantic Ocean.
She received the United States Distinguished Flying Cross
for this accomplishment.
She set many other records, wrote best-selling books about her flying experiences and was instrumental in the formation of The Ninety-Nines, an organization for female pilots. In 1935, Earhart became a visiting faculty member at Purdue University as an advisor to aeronautical engineering and a career counselor to women students.
She was also a member of the National Woman's Party and an early supporter of the Equal Rights Amendment.
During an attempt to make a circumnavigational flight of the globe in 1937 in a Purdue-funded
Lockheed Model 10-E Electra,
Earhart and navigator Fred Noonan disappeared over the central Pacific Ocean near Howland Island. Fascination with her life, career, and disappearance continues to this day.
Amelia: practicing her landing and takeoffs with a British Airspeed Oxford in British registration
Quote Amelia: A close up of her whispering in the ear of her naviagator, Charles Ulm
Amelia: Sitting on top of the wing of the Lockheed Vegas after her triumphant flight to Oakland.
Amelia: Posed in front of of all-white Lockheed Vega with possibly blue trim after her recent purchase.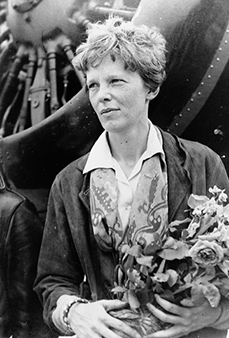 Amelia: Posing with flowers in front of the all-red Lockheed Vega, probably after landiing in Ireland on non-stop flight from Newfoundland.