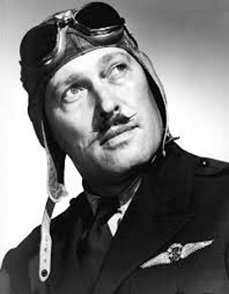 Roscoe Turner (September 29, 1895 – June 23, 1970) was a record-breaking American aviator who was a three-time winner of the Thompson Trophy air race and widely recognized by his flamboyant style and his pet Gilmore the Lion.
Turner's major contribution to aviation was speed. And while he is known for his showmanship and speed records in the 1930s, the race years brought considerable pressure and gave him terrible nightmares. The press would dub him "superman" and "immortal" on one page while the obituary writers were putting him in the ground on another. In 1935 one newspaper printed his obituary in advance and delivered it to his hotel room the night before the Cleveland race. "No matter how many newspapers turn you into a superman, an immortal, you're still a man inside, you don't quite feel like dying, and you're generally scared as hell," Turner said.

In 1929, he set a speed record between Los Angeles and New York while carrying a passenger. He broke the transcontinental record more times than any other person.

During his barnstorming days, he sported a wax mustache and a pseudo-military uniform and often flew with his pet lion "Gilmore." In 1933, Turner won the Bendix Transcontinental race. Turner was the only person to win the Thompson Trophy Races in 1934, 1938, and 1939.

Turner and Jimmy Doolittle are the only pilots to win both the Thompson and Bendix trophies. In 1934, Turner was the sponsor and commander of the only American team to finish the McRobertson International Air Race from London, England to Melbourne, Australia, taking second place in the speed division.

During World War II, Turner established an institute to train pilots. He was awarded the Distinguished Flying Cross in 1952 by an Act of Congress, for his contributions to aviation development and pioneering in speed flying. It was the first to be awarded in over 20 years by an Act of Congress and only one of six to be awarded by Congress.
Turner was a consultant to the House Science and Astronautics Committee, serving the 86th, 87th and 89th U.S. Congress.