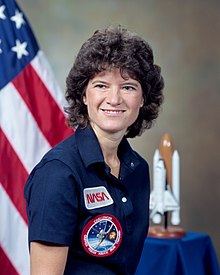 YOU KNOW YOU'VE MADE IT WHEN
THEY MAKE YOU INTO AN ACTION FIGURE

Sally Kristen Ride (May 26, 1951 – July 23, 2012) was an American astronaut and physicist. Born in Los Angeles, she joined NASA in 1978 and became the first American woman in space in 1983. Ride was the third woman in space overall, after USSR cosmonauts Valentina Tereshkova (1963) and Svetlana Savitskaya (1982). Ride remains the youngest American astronaut to have traveled to space, having done so at the age of 32. After flying twice on the Orbiter Challenger, she left NASA in 1987. Ride worked for two years at Stanford University's Center for International Security and Arms Control, then at the University of California. San Diego as a professor of physics, primarily researching nonlinear optics and Thomson scattering. She served on the committees that investigated the Challenger and Columbia Space Shuttle disasters, the only person to participate in both. Ride died of pancreatic cancer on July 23, 2012. Sally Ride didn't initially set out to become a role model for women, but that's exactly what happened when she became the first American woman in space in 1983. The California native was pursuing a graduate degree in physics at Stanford University in 1977 when she saw a NASA ad in the school newspaper looking for female astronauts. She applied, and beat out thousands of other candidates to become one of six women selected for the program. She made history just a few years later with her work as science officer aboard Space Shuttle Challenger at the age of 32, and transformed into an instant inspiration for girls and women around the country as she broke down traditional gender barriers. She would go on to fly in space again and assisted NASA during the investigation into the fatal Challenger accident of 1986. Her most lasting legacy would be the role she played in inspiring girls and women across the nation and the world to pursue roles in science and engineering, not just through her historic feats, but also through her long-term role as an advocate for the cause, which she accomplished through the creation of the company called Sally Ride Science and by writing several science books for children. Ride died in 2012 at the age of 61 of pancreatic cancer.