republic f-84g
beechcraft starship
SKY9PILOT (TOM AKERY'S) PLANS
THESE PLANS WERE DRAWN FOR MYSELF ORIGINALLY AND ARE NOT FOR THE BEGINNER BECAUSE THEY DON'T INCLUDE STEP BY STEP DIRECTIONS. I BELIEVE A MODELER WHO HAS BUILT A FEW KITS OR HAS BUILT FROM PLANS WON'T HAVE ANY TROUBLE BUILDING FROM THESE PLANS. FEEL FREE TO MODIFY THEM TO YOUR BUILDING TECHNIQUES. I DO WANT TO RECOMMEND JOINING THE FREE MODELING FORUMS THAT HAVE BEEN HIGHLY INSTRUMENTAL IN MY ENJOYMENT OF THE FREE FLIGHT RUBBER POWERED MODELING HOBBY:
stickandtissue.com hippocketaeronautics.com smallflyingarts.net
YOU'LL FIND GREAT SUPPORT AND SUGGESTIONS AS YOU JOIN THIS GREAT HOBBY! I RECOMMEND YOU PRINT IN THE BLACK & GREY SETTING ON YOUR PRINTER FOR CLEARER BLACK AND WHITE PLANS CLICK ON THE PICTURES OF THE PLANS BELOW TO DOWNLOAD THE PLAN PDF. IF THERE IS A PARTS PAGE CLICK ON THAT NOTATION FOR THAT PAGE.

These plans are not for the novice or first time builder. Most fuselages are constructed using the ladder jig where the formers are mounted on the steps of the ladder according to the fuselage demarcation line/thrust line to set the "former" positions on the jig. The stringers are added each on the opposite side one at a time till the fuselage is almost complete and set strong enough to remove the ladder jig. A link to the Stick and Tissue site for more complete explanation: Click on picture below of the ladder jig.
no-cals
Some of the best No-Cal plans and techniques can be found on Paul & Ralph Bradleys Model Airplanes site. Click on the SE-5a below to go to their site. Then check out their "Techniques and References" for more details on props, motor sticks etc.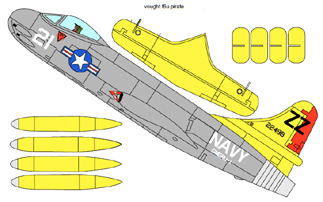 vought f-6u pirate
no-cal

lockheed t-33 no-cal